25/11/01:
"Eat Your Veggies!" - A Comic.



The long-awaited showdown between Commander Keen and his supposed copyright-infringing counterparts (Anakin Skywalker and Dexter from "Dexter's Lab"), for the title of Whizz-Kid! Click on the banner to enter... (Yes, it is intentionally in the style of a "Mad comic" parody.)
***
The True Story Of How This Website Changed The World Forever:



EmotiKeens!
***

***
The Mortimer McMire Bond Villain Song
***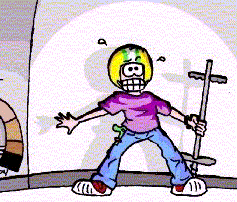 "The Universe Is Toast" - The Comic Strip!
***
---

Either write me an anonymous message...


...or just e-mail me the old-fashioned way, by clicking on the smirky dude.


e-mail
---
For Other Keen Stuff, aim your photachyon transceivers in the direction of the Public Commander Keen Forum

DISK-LAMER: I do not intend to make any money from this website. Titles used herein such as "Commander Keen in Copyright Infringement" are mere jokes, in this case taken from how the computer game character "Dangerous Dave" was invented (go to the 3D Realms website to find out about this). The CK characters are the creations of Tom Hall and co., and the rights to the Commander Keen computer game itself belong to id software. This web-comic is merely my humble tribute to the finest platform game ever made.