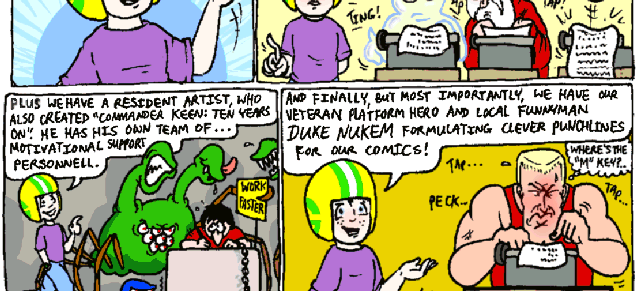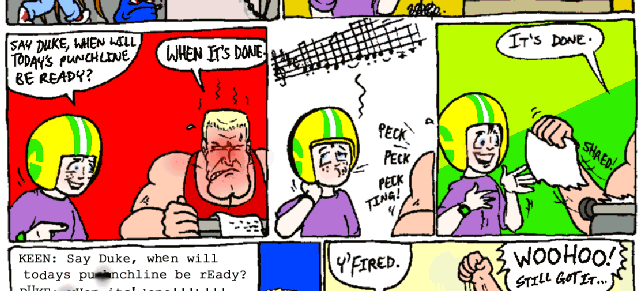 ---
SPAGHETTI IS A FORM OF PASTA, A CARBOHYDRATE-RICH FOOD WHICH MAY BE BOILED AND SUBSEQUENTLY EATEN WITH MINCE OR THROWN AT SOMEBODY'S CAR.

Well, I had to start with something more original than "Welcome to my new web-comic about Commander Keen, blah blah blah", by which time you'd be fast asleep and dreaming. Or off visiting my other web-comic page to see if it is any better than this one.
Don't worry, it gets better! Much better! Whackier, sillier, cleverer, ... And you know why?
Because YOU are going to be in charge of quality control. That's right - whenever you have an idea for a comic, or a story, or if you just realise that I suck and need lots of your wisdom and guidance, simply
E-mail Me with your thoughts!
I honestly don't know how I'm going to manage a Commander Keen comic every week without drawing SUCKY comics every so often, so it's up to YOU to make sure that you're getting what you want. Interactive web-cartooning! Oo, sounds exciting!
And so, in closing, I would just like to say thanks for visiting and blah blah blah but I WON'T because if I did, you'd be asleep and dreaming or off visiting my homepage/diary to see if that's any less boring than this, so instead I'll leave you with this profound phrase of ancient wisdom:

NOTHING IS MORE UNNERVING THAN A MASS OF SPAGHETTI HITTING YOUR WINDSCREEN WHEN YOU'RE DRIVING DOWN THE HIGHWAY.
-King Sluggy (AKA "Too Much Spare Time", in non-Keen related environments.)